Your success is our treat.
Our professional-grade, ergonomic, and responsibly made culinary tools are inspired and designed specifically for the Sugar Arts and created to enhance and elevate the efficiency, comfort, and creations of your craft. Get creative and enjoy! 
SHOP OUR FULL RANGE OF PRODUCTS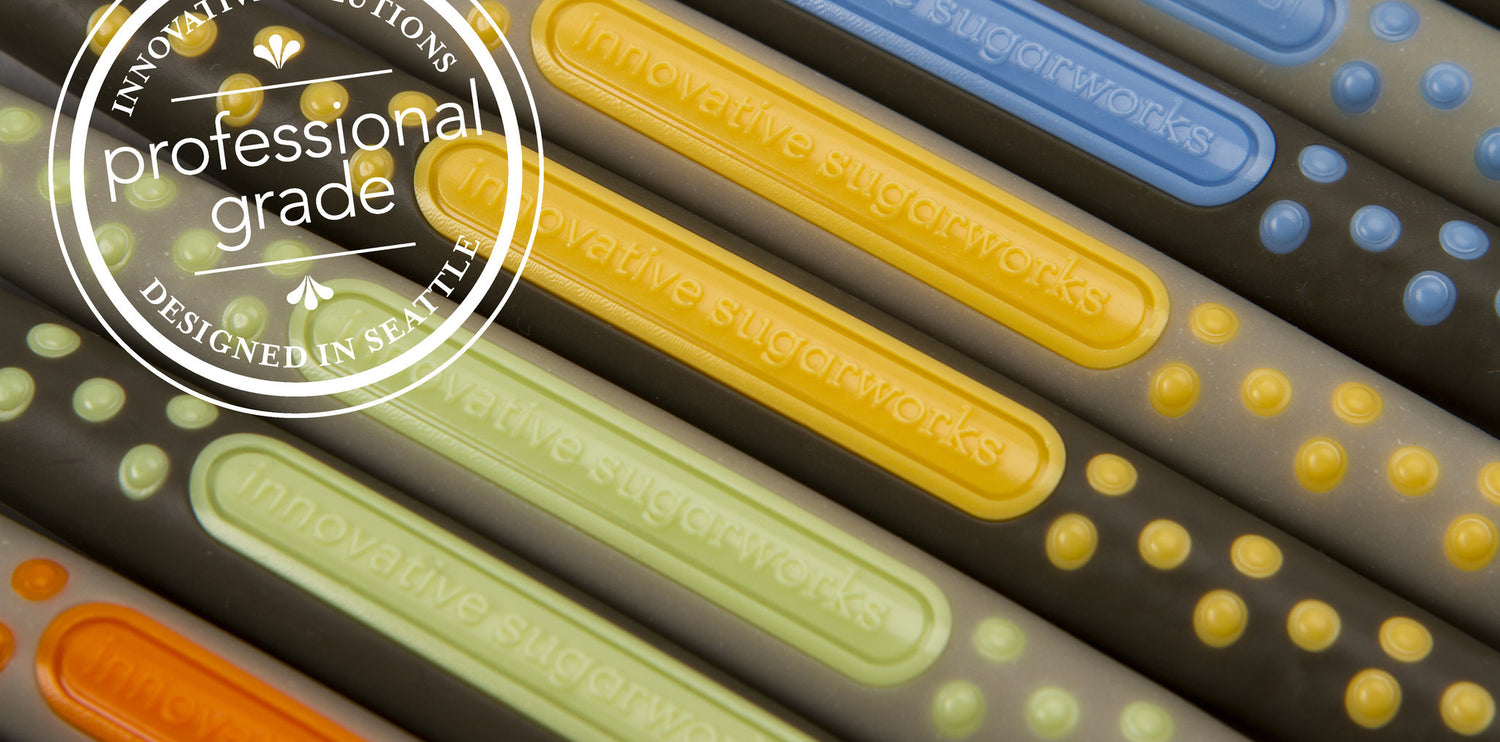 High quality, professional grade Sugar Arts products.
At Innovative Sugarworks, we are dedicated to being the leading innovator, developer, and provider of professional-grade, ergonomic, and responsibly made culinary tools inspired and designed specifically for the Sugar Arts. Our innovative tools and products are created to enhance and elevate the efficiency, comfort, and creations of your craft.
SHOP WHOLESALE
Sugarworks™ Blog
We asked our latest Brand Ambassador to share with us how she makes one of her favorite flowers, the white rose.  This flower is perfect for almost any occasion, and can be used to decorate wedding cakes or special event cakes.  For this flower, you will need the following tools and materials:
Wafer Paper, thin 0.30 mm
Water
Scissors
Spray Bottle (Vaporizer)
Sugar Shapers, Firm
Fine Detail Brushes
All of my flowers are abstracts.  I never use models, because everything is hand made.  Every petal is hand cut with scissors.  With this small tutorial, I will show you how to make a rose in wafer paper with the effects similar to the appearance of silk.  
STEP 1
Take a sheet of wafer paper and cut the corner to make a circular form, then cut a spiral.
STEP 2
With a bowl of water, use a small brush to wet just the edges of the spiral.  This step is important because the water makes the wafer paper soft and easy to work. However, beware of wetting the paper too much!
STEP 3
Turn pressing only on the base, this will make the interior of the rose as a rose bud. Continue turning, until you make the rose.  Let it dry.

STEP 4
Cut the irregular petals.  Spray with a water vaporizer, and let them dry.
STEP 5
Cut the base of each petal and wet it with a little water.
STEP 6
Apply the petals to the rose.  Sugar Shapers are a great tool to help you do this.  
STEP 7
Cut a circular shape of wafer paper and use it as a base to close the rose.  Let it dry very well.
I hope you enjoyed this little tutorial...see you soon, Lucia!
For this project, I used my Innovative Sugarworks' large Sugar Smoothers and Artists' Fine Detail Brushes.  The brush set includes all six of our fine detail liner, round, and flat brush heads.  However, for painting these specific decorative elements, the two main brushes I will use are the Round 1 and the 3/0 Liner.  
I will also use Styrofoam bases, covering each one with black sugar paste.  The large Sugar Smoothers are perfect for removing excess fondant and creating a a clean cut when covering cakes.  They are excellent for curved and flat surfaces.  
I will be hand painting this cake based on my chosen decoration, which is inspired by damask textures.  Before I start painting, I gently mark off the space I will be leaving blank.  I use pins to act as guides to help me outline the area of the central rhombus.  Then making the most gentle of impressions, I trace the border where I will be embellishing with my textured sugar paste frame.  Using the edible gold color, I start painting the decoration by first referencing the pattern.  However, the pattern gradually becomes my own creation as I continue to fill in the spaces on the cake.  
Painting free hand like this is, is a job of precision and having these wonderful brushes helps me speed it up while still being able to be very precise.  These brushes are ideal for applying edible color dusts, powers, and paints.  
After the intense painting session, I will add even more detail by applying different decorations modeled in black sugar paste.  Same thing for the Crown!
AND THIS IS THE FINAL RESULT!!!!